Over the past years, we have created dozens of Christmas themed educational games for TES iboard. As Christmas approaches, iboard are promoting these games once again, so if you're looking for some festive games and activities for your class, take a look at some of these Christmas topic packs which we created or contributed to.
Christmas Literacy Activities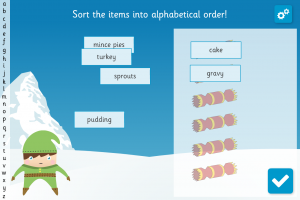 Whether you're looking for creative writing or non-fiction tasks, Christmas is the ideal time to try one of our short writing units.
Christmas Non-Fiction Writing Unit (KS1)
Children produce a poster that gives information about a Christmas tradition, through sharing ideas and selecting information from reading a text. [5 lessons]
The Elves' Workshop – Lists and Letters (KS1)
Introduce labels, lists and letter-writing in this fun non-fiction unit, with engaging interactives. Children receive a letter from Father Christmas and his elves asking them to help suggest toys for their new workshop… [4 lessons]
Christmas Story Writing Unit (KS1)
Children take part in role-play to deepen their understanding of Nativity characters, and discuss and respond to story events. They go on to write and illustrate their own stories. [6 lessons]
Assemblies / RE
Introduce the festival of Christmas to your school with these Assembly packs, which include differentiated information books, a full assembly script and slideshow of images:
Christmas Maths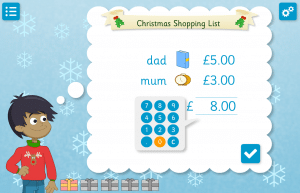 Looking for Christmas-themed maths resources? Try these super packs:
A fun maths pack for Christmas featuring the TES iboard elves! Activities cover directional language, angles, division, data handling and symmetry.
Each of these maths areas has a elf-themed interactive resource – share with the whole class on the IWB to introduce and discuss concepts. The activities are also suitable for pupil use, independently or in pairs. For further practice, or fun holiday homework, follow up with our associated printables.
As the festive season approaches, what better time could there be to capitalise on gift shopping to practise addition and decimals?
Use the context of Christmas shopping to model calculation concepts – with IWB tools on totalling, adding within budget and working out change. Plus, we've provided time-saving worksheets, differentiated to 8 levels – ideal for desk-work following whole class input, or as a homework task.
Twelve Games of Christmas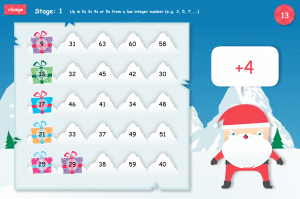 Calculation… Data handling… Shape and space… ICT
Try our ever-popular, fun, festive and challenging games!
Sort elves into sets, set co-ordinates for drawing a Christmas tree, play a tune on handbells, arrange baubles symmetrically, find the difference, practise speedy mental calculations, set angles to fling the elf…
The games cater for both KS1 and KS2, with objectives covering a variety of maths areas. Full instructions and tips are given, with ideas for extending tasks into follow-up groupwork.
Browse the Twelve Games of Christmas