We were delighted for the opportunity to collaborate with Immediate Media Co. earlier this year. We were asked to design and prototype a web app for one of their clients, the Sea Cadets, for their Current Magazine portal.
Our role was to liaise with Immediate Media's print team and their web developers, to design a careers portal that was fun and also informative. The print team had come up with some terrific ideas for their client, but they were restricted by the technology available. We were brought in to take their ideas, and come up with something that was technically feasible for their web developers to work with.
We spent a week with Immediate Media, working with both teams, designing and prototyping ideas.
We wanted to rethink the boring, but conventional and useful, filter-based system and come up with something that was visually exciting. The original idea was for a three-step process where the user would select a region, then a role, then a company, but we wanted to step away from this slightly, to produce something that was more dynamic and fun.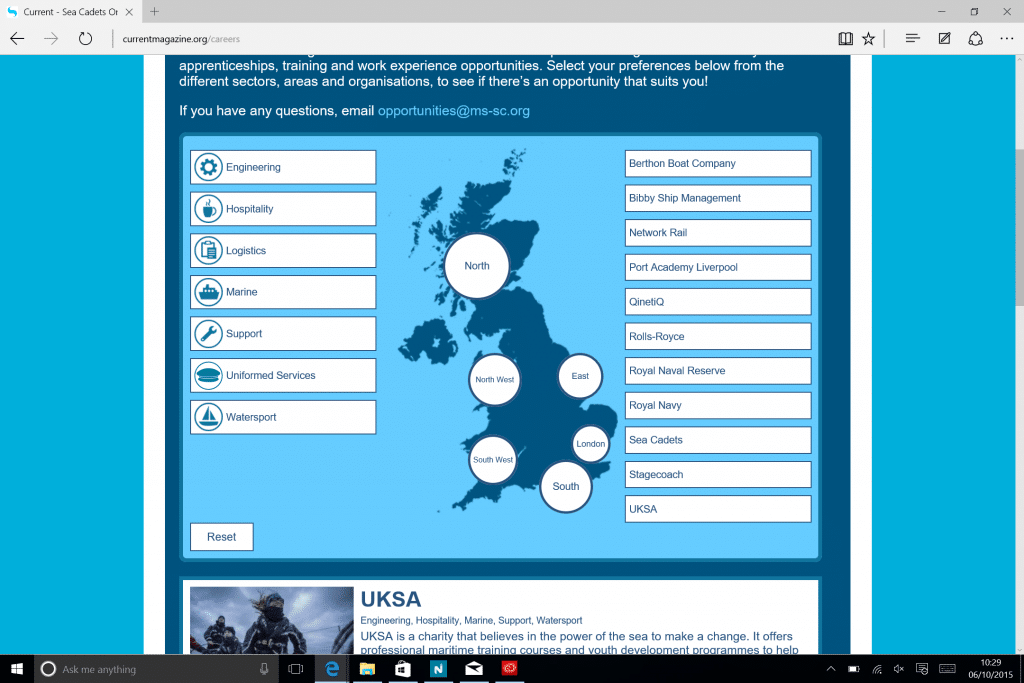 We developed a system where the user could see visual representations of regions, roles, and companies, and from any point they could select or deselect these in order to perform a search of available opportunities. We didn't want users to be restricted as to how they performed a search, so we designed a system where applying a filter would then highlight which of the other filters could be applied. It's intuitive, and fun, allowing users to select and deselect options at anytime, showcasing the available roles and opportunities.
We also had to ensure the system would scale to mobile devices, as the site is likely to be reworked in the near future. Likewise, the system needed to be built dynamically so opportunities could be added in the future. We also developed some simple animations, which would work cross-platform, to increase user interaction.
We also designed the result listings, and result detail pages, carrying forward the visual style of the app.
The
web app is now live
, after being developed by Immediate Media's developers, and we're delighted with the final result, as are their clients. This was a fun project for us, and it was great to work with their talent both on the print team and on the web team.