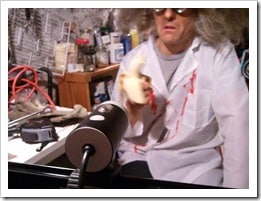 And we're done.
Filming for Zombies Ate My City was completed last night.
We spent yesterday shooting the mission videos with our crazy Professor Klada in a bunker set in Greenwich, London, and it went better than we hoped.  Our lead actor, Graham Vick has brought to life a character that we hope will make you chuckle whilst you defend your city from the zombie onslaught that is coming.  We were literally in tears shooting some of the scenes as the results of Klada hiding out in a bunker for several years have clearly taken their toll on his state of mind.
The next job will be cutting these mission videos with our tip videos (narrated and illustrated by a much younger Professor Klada many years before) and the transition videos, having the music scored by Andrea Possee (The Devil's Rock and Timedancer) and, of course, coding the whole thing together to bring you a strange but compelling game!
Thanks to our actors (both young and old), random zombie public and our crew.  We had a blast and, looking back at the footage today, we're so excited about getting Zombies Ate My City out later this year!