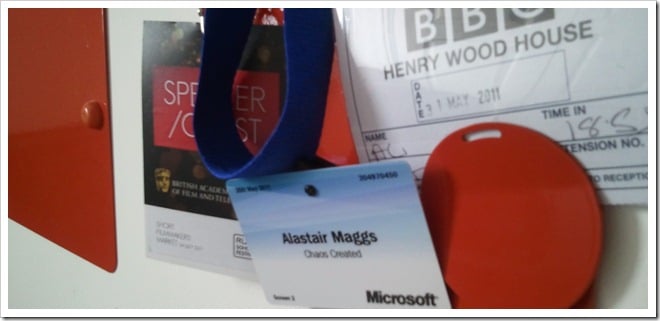 By Ali Maggs (Co-creator and programmer on Timedancer and Zombies Ate My City)
We've had the best few months releasing Timedancer and getting it out there to the public.
We've been invited on several podcasts to talk about our work on Timedancer.  Originally, we were hoping that a few Windows Phone sites might pick up on what we've been up to, but it actually stretched way beyond that as we've been talking at various transmedia events and podcasts.
One of our goals with Timedancer was to combine media types to tell one story.  We always wanted to tell a grand science-fiction story and use the "app" as a distribution model.  We therefore had to tailor the way we told that story to fit the medium.  We ended up creating an app that crossed over media forms.  We have video (with professional actors), we have puzzles, we have games, we have 3D environments to explore.  One of the hardest things for us to do was to "define what Timedancer is" – we finally settled on an "interactive experience" which sounds a little wanky, I guess, but we don't fit under the conventional headers of game or film.
We weren't the only people to pick up on this and we've been humbled and delighted by the amount of attention we've had from the transmedia community which has allowed us to talk about Timedancer on a variety of podcasts and, more recently, allowed us to speak at BAFTA and Transmedia London events.
It has been fantastic being able to talk about our concepts and ideas, and how we created Timedancer.  We talked about our initial foray into creating an interactive experience with Gridsearch back in 2005 (an interactive crime solving experience using live actors and portable media devices) and how technology wasn't advanced enough for the experience, how we used our experience in filmmaking to assemble a production and post-production crew for Timedancer, how the story has evolved and was tailored to fit the app experience…  I'll try and write up our presentation soon.
In addition to that, we've been able to have a dialogue with the transmedia community, the Windows Phone community and other content creators which has reinforced our ideas as to what we'll be doing going forwards and has made us take a look at how we can develop our ideas even further.
Arivind will be talking about our slate of work over the next few months in a follow up post, but we're very committed to creating unique experiences, and experiences that will be cross-platform, cross-media and tailored to the platforms we'll be targeting.  One of the things we will be doing is allowing non-Windows Phone users to experience Timedancer.  It won't be the same content as the phone users, instead it will explore plot points through web-based content (including webisodes) and it will serve as a companion piece to the series and it will be written specifically as a web series. As the next wave of Windows Phones hit the market (including the new Nokia phones), we'll have some app updates to tie people over, as well as a spin-off app, to bridge the gap between now and Episode 3.
A few days ago, we announced Zombies Ate My City.  This will also be a massive transmedia project that will have different platform specific ways to experience the game.  We'll be going into detail about how we are tailoring the ZAMC experience depending on the platform at a later date, but the experience on each platform will be different and complimentary.
We're very excited about the work we've got coming up and appreciate the feedback we've received and it's been really great meeting everybody and sharing our ideas and we're committed to delivering some really interesting transmedia projects.