By Ali Maggs – Co-Creator and Programmer
Today, post production has begun on Timedancer Episode 2.
Post production on a project like this differs from most other films or apps I've worked on, simply due to the sheer number of people involved and the nature of a cross-media application.  Timedancer, for episode 2, has scaled into a fairly big operation.  Production involved a writer, producer, director, DOP, sound recordist, focus puller and gripper.  Post production involves an editor, colourist (for grading), special effects, 3D artist, composer and a programmer.  Myself and Arivind oversee the whole project, but in terms of how we function on a day-to-day basis, Arivind writes the scripts and I work as a programmer.  It's good to be so hands on and to have one of us on production and one of us on post production as we each guide the other.
So today, post production began!  At 10:24am the project file was created, a cup of coffee was made, and so began a six week stint of craziness…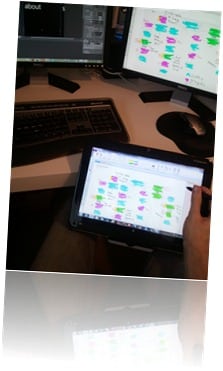 I thought I'd blog about this as much as possible, to be open about our development process and to state any problems we come across and how we went about solving them.  We ran up against a fair few in episode one and I wish I kept better track of them for myself…
So here goes!
Day one, for me, has been spent creating the entire "flow" of the activity…  Using mostly Expression Blend 4, with some time in Visual Studio 2010, I started creating pages to represent each "step" in the episode…  I'll write up an article about the workflow that we use, and the technology that helps us share work and communicate, but we do a lot of our work in OneNote which we sync between computers and the cloud with Windows Live Mesh.
Arivind wrote the original structure over a couple of months whilst working on the scripts.  A few days ago, following production, we discussed which elements fall into each category.  Our categories are video, graphic (or "Pivot"), environment and puzzle.
Using my convertible tablet PC (The HP TM2), we used ink input to highlight the category of each "step"…  Today, I went through the document again giving each "step" a page number which corresponds to the filename of each page.  What's very nice is that every few seconds, the version on my desktop which I'm working from gets updated (my OneNote notebooks sync through the cloud and to other machines over Windows Live Mesh).  Kind of smart.  Incidentally, I doubt very much I could get any work done these days without the duel monitor set-up I've got here – it's such a help being able to work on one screen and have my reference material on another…  Beats having sheets of paper pinned to the monitor.
Anyway, most of today has been spent creating page files for each "step" in Episode 2.  These will serve as placeholder files that I can drop assets into as I work on this over the next few weeks.  I've also created buttons that let me move through the entire episode and named them accordingly (for example "puzzle solved" or "video playback finished")…  Some of these buttons will probably end up staying, whereas most will be replaced with an action (for example, a video's playback finishing).  A lot of the work I'll be doing is reliant on others delivering me assets – such as graphics, animations and videos, along with copy text from Arivind.  In the meantime, I'll be working on each of the four puzzles for the episode, which we've mapped out, but need fleshing out over this weekend.
I guess the hardest part of day one is how daunting the task ahead is…  It becomes manageable breaking it down into chunks (I've started setting myself tasks for each day).  Having the structure mapped out is a big help, and a massive start.  I can now work on each of these steps independently, and I can already get a feel for the episode.
Here I go…
Random stats from today…

Listening to: July For Kings and Josh Ritter

Cups of coffee drank: 4

Lunch break: Chicken and Bacon Salad (To counter the amount of junk food I ate last weekend during filming)