By Ali Maggs – Co-Creator and Programmer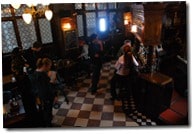 Today we completed production on the video elements for Timedancer Episode 2.
This morning we were out on location, filming in a proper East-End looking pub (think The Queen Vic) on The Strand with tall ceilings and a sweeping bar and in a solemn looking cemetery park near Mile End (where, coincidently, the staff member that dealt with us has a Windows Phone and a copy of Timedancer!). These locations were fantastic, and helped us to capture the mood of each scene. Timedancer Episode 2 is an emotionally driven episode, which focuses on the character of Adam who was briefly seen, looking and sounding rather sick, mid-way through Episode one. In Episode two, we'll learn about how he came to be a Timedancer and the sacrifices he must make with the choices presented to him. The two scenes which we shot this morning are key scenes in Adam's story.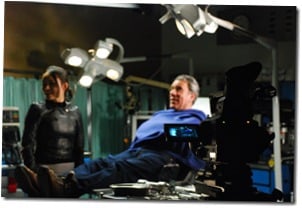 This afternoon, we were filming in a studio in North West London which specialises in medical sets and props. This place was a real find, and it allowed us to shoot three scenes from Episode 2. The studio next door was full of weird and interesting props and sets and has set our minds working on what we could shoot here for future episodes. The scenes shot here are, again, full of emotion, but they also allow us to further explore a little about the Timedancer Corporation and the powers at play.
It's been a fantastic couple of days, with a great crew, all of which are excited about bringing this episode to Windows Phone 7 in the coming months. Nearly all the crew (and cast) come from a film background, so – for them – being part of Timedancer is exciting as it allows them to tell a grand story on a small screen, and in a non-linear way.
We've got lot's of exciting things to talk about, and a couple of announcements to make, over the next few weeks.
Thank you for all your support so far. For me, the real work begins tomorrow as I start to piece together the structure of the episode, and we begin work on the interactive elements and gameplay elements.