We're thrilled to announce the release of the web site we have been developing for St. Werburgh's Park Nursery School, based in Bristol.
Chaos developed the nursery's original web site, many years ago. Since then, the web has come a long way, and we wanted to give the nursery a site that was clean, modern, and highly functional.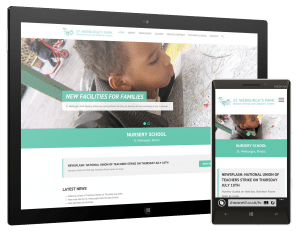 We designed them a site that accomplishes all of this, allowing parents to use the site as their first point of contact for news, events and information, as well as providing parents of future pupils the information they need. It has Facebook integration, events management, and newsletter publishing.
We've also helped St. Werburgh's Park Nursery School refresh their visual identity, modernising their logo, and introducing a new colour palette that the nursery will use across their printed and digital portfolio.
We designed a site that is bright, bold, yet easy to use, and is mobile and tablet friendly, responding to different devices to make sure that the user has a wonderful experience, whether they're using a PC, a tablet, a smartphone, or a low-end feature phone.
Chaos Created has also been asked to manage the site, moving forwards, allowing us to work with staff to make the most of the web site and make the site an exciting, and useful, portal for parents.
The site is live at http://www.stwerburghs.com/. You can read more about our web design services for schools in our services section.