Website design for schools
Use our Chaos for Schools platform to update news, events, maintain a teacher-only collaboration area, and more.
Chaos Created designs and develops beautiful websites. These sites are vibrant and dynamic, scale between computers, phones, and tablets, with responsive design, and are optimised for search engines. We can also integrate all your social networks.
Our special Chaos Created School Sites platform has everything you need to allow you to maintain and amazing resource for parents, and for staff!
Take a look at the features of our Chaos Created School Sites platform.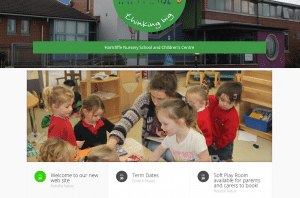 Feature Content
Promote the most important or latest content on your home page, with a highly visual and attractive design.
Feature News
Share news and updates with parents, illustrated with beautiful photo galleries. Keep parents up to date with built in email newsletter functionality.
Feature Events
Keep an online calendar where parents can find out about upcoming activities, events, inset days and more. Allow parents to register for events online!
Showcase your School
Show off your school with beautiful pages that look stunning on computers, mobile phones and tablets. All our pages are optimised for search engines so parents can find you easily online.
Teacher Hub
Teacher Hub allows teachers to share content only with each other, making this section an amazing collaboration tool. Share ideas, progress, and maintain teacher-only events. Password protected.
Social
Our platform can automatically update Facebook, Google+ and Twitter with your latest news and events, and we can use social media accounts to allow parents to interact with your site.
Examples of our School sites:
St. Werburgh's Park Nursery School
Hartcliffe Nursery School and Children's Centre
The Limes Nursery and Children's Centre
More examples of our web design work can be found here.
Phone: 0845 299 0714
Email:
email@chaoscreated.com
More ways to contact us